Leverage the power of customer buying patterns with Contextual Intent from HG Insights!
In this step-by-step video, Shelby Cleveland, Enterprise Account Executive, demonstrates how her customers use HG's Contextual Intent tool to target prospects and engage with them early in the buying journey.
Intent signals are crucial to set businesses apart in an increasingly digital marketplace where buyers are empowered to research and learn early in the buying process. HG Insights is the only intent data provider that contextualizes intent data based on a company's Technology Intelligence profile inclusive of its installed technologies. To drill down on specific signals, we sort our intent data into several key contexts that represent the product life cycle.
Contextual Intent Signals
Whitespace: This indicates that a prospect is researching or evaluating a product that's not detected in a current install.

 

Expansion: This indicates that a prospect is researching a product from a category where we already detect an install of another product from the same vendor.

 

Displacement: This indicates that a prospect is researching a product where we already detect an install of a competitor product from a competing vendor.
By themselves, intent signals can be difficult to make actionable. Combining intent data with Technology Intelligence allows HG to increase ROI by helping customers focus on the right accounts at the right time, based on where they are in their buying journey.
Seeing Is Believing – Watch The Video!
Experience HG Insights

Accelerate your customers time to value with HG Insights' world-leading technology intelligence solutions – you can drill down from high-level planning decisions to granular, actionable insights on a company-by-company level with the click of a button.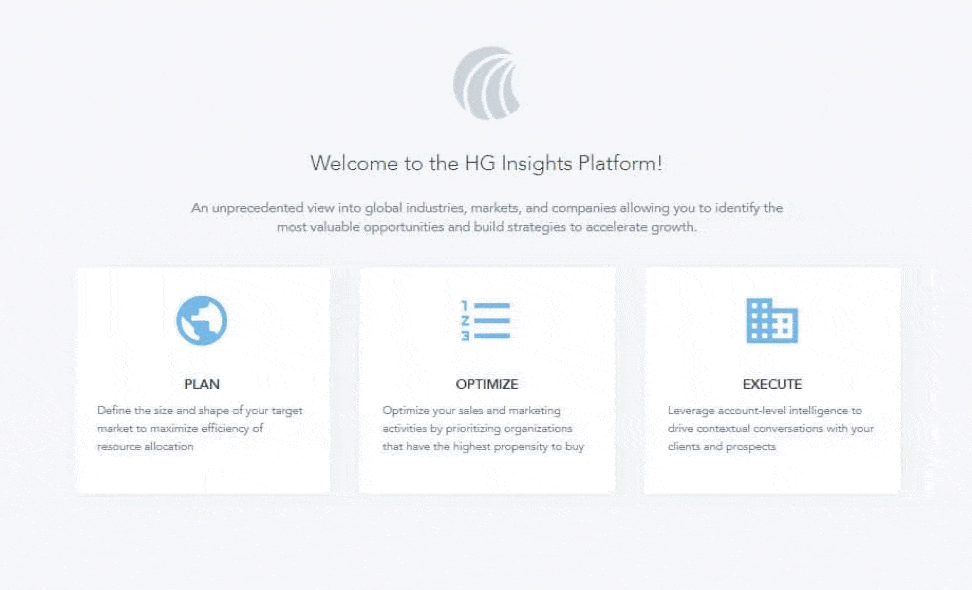 Schedule a demo with one of our solutions experts to see how you can use HG Insights at your company to accelerate growth!