HG Insights Confirmed As Leader In Sales Intelligence & Marketing Account Intelligence!
In this step-by-step video, Brett Castonguay, Customer Success Manager, showcases HG's best-in-class Market Intelligence and Opportunity Generator tools, demonstrating why HG Insights has been named a Leader for both Sales Intelligence and Marketing Account Intelligence by G2, the world's largest and most trusted software marketplace.
Achieving Leader status in two G2 categories is a result of HG's strategic focus on new product innovations, market expansion, and ecosystem growth — and it represents the trust customers place in HG's data-driven insights. G2 defines the categories in which HG is a leader as:
Sales Intelligence Software helps companies use internal and external data to increase sales and improve sales processes. Companies use sales intelligence software to improve the quality and quantity of sales leads by using B2B contact databases to find new opportunities and provide salespeople with the information they need to take advantage of them, including contact information, job titles, and firmographics.
Marketing Account Intelligence Software compiles insightful prospect data to help marketers develop a list of accounts that fit a user's ideal customer profile. Marketing account intelligence systems are implemented to combat the inefficiencies of the traditional "spray and pray" marketing approach.
Experience HG Insights

Accelerate your customers time to value with HG Insights' world-leading technology intelligence solutions – you can drill down from high-level planning decisions to granular, actionable insights on a company-by-company level with the click of a button.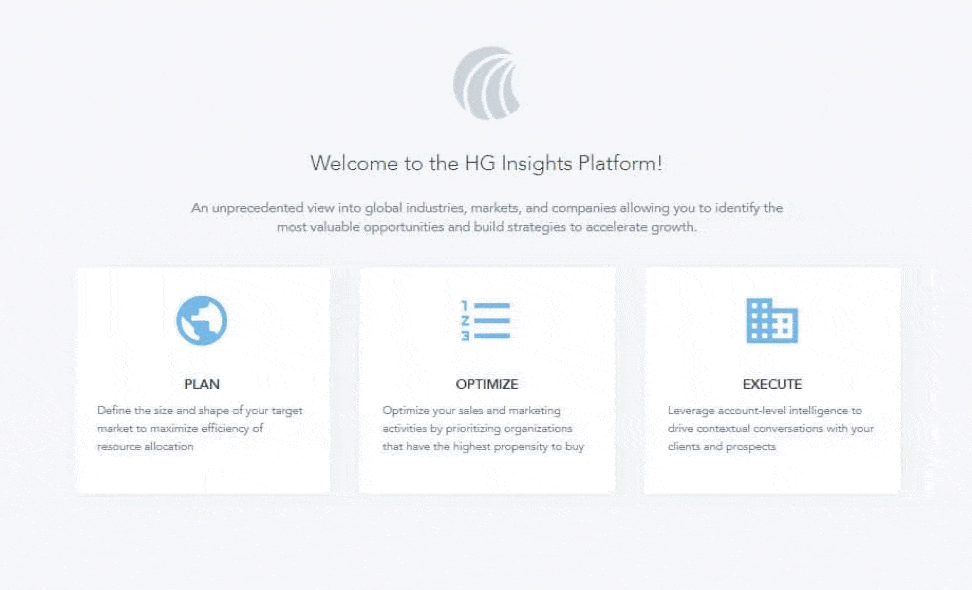 Schedule a demo with one of our solutions experts to see how you can use HG Insights at your company to accelerate growth!