$1.7B Human Capital Management opportunity uncovered with Technology Intelligence from HG Insights!
In this step-by-step video, Leo Zunz, Senior Enterprise Account Executive, demonstrates how a customer leveraged the power of HG Insights' Technology Intelligence to uncover accounts with the highest propensity to buy Human Capital Management (HCM) products.
HCM takes a strategic approach to attracting, developing and managing a global workforce and the worldwide HCM product market is expected to grow from $28.86 billion in 2023 to $53.61 billion by 2030. Technology Intelligence from HG Insights delivers a comprehensive view of the entire technology ecosystem at both the market and account-level, so you can target and engage accounts with precision:
IT Install Data: When a tool was installed, deployment locations, and for how long.
Spend Analysis: How much an account spends broken down by technology category and providers.
Contract Intelligence: Who are an account's providers, for how long, what are the account's renewal timelines, and more.
Contextual Intent: Contextualized B2B intent data so you can target prospects and engage them early in their buying journey.
Functional Area Intelligence: Where detected technologies are used on both a departmental and location-specific level within an organization.
Make better decisions about which accounts to prioritize
Technology Intelligence from HG Insights enables customers to make better decisions about which markets and accounts to prioritize, which products to consider developing, where to allocate limited resources, who to partner with, how to plan sales territories, all the way down to what messages to send to whom and when.
Experience HG Insights

Accelerate your customers time to value with HG Insights' world-leading technology intelligence solutions – you can drill down from high-level planning decisions to granular, actionable insights on a company-by-company level with the click of a button.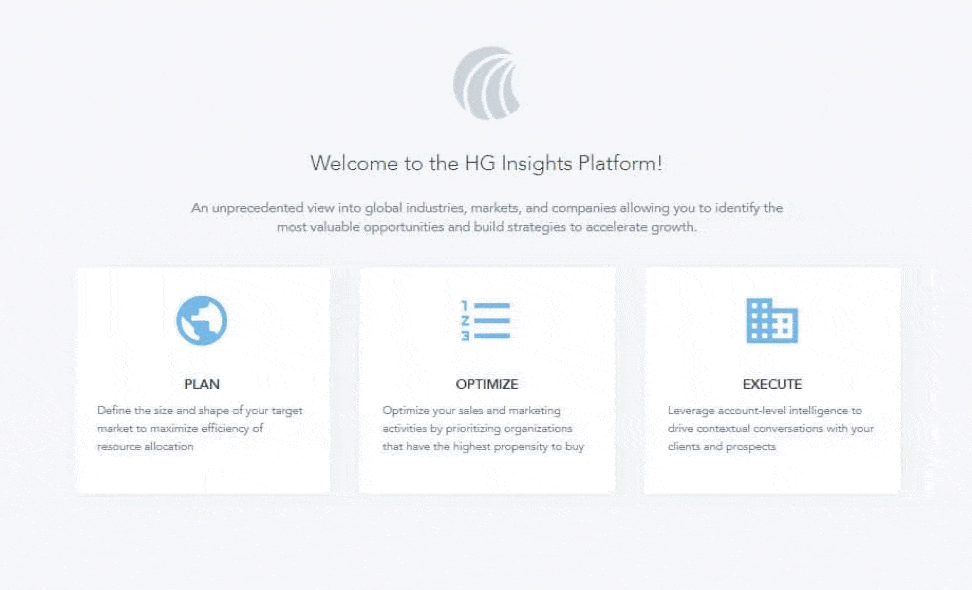 Schedule a demo with one of our solutions experts to see how you can use HG Insights at your company to accelerate growth!