Unleash the power of HG Market Intelligence and analyze the true size of your market to make actionable, data-driven decisions!
In this step-by-step video, David Crossman, Senior Director of Customer Solutions, demonstrates how the HG Insights Market Intelligence solution enables business leaders to leverage actionable, data-driven insights to better understand their markets in depth, make better business decisions, and Go-To-Market with confidence.
Using HG Market Intelligence, customers can uncover market opportunities that can be used for greater alignment, increased efficiency, and improved ROI. By customizing these insights based on your unique business criteria, you will be able to plan your strategy and maximize growth outcomes.
Key Benefits
Discover and Size Markets
Uncover, size, and understand markets by IT spend, technology install, firmographics and other customizable criteria to identify opportunities for growth.
Identify New Business Opportunities
Compare, define, and analyze your competitive market, prioritize prospects, and leverage account-level intelligence to uncover new business opportunities.
Understand Your Market
Understand the true size of your market and the geographic breakdown of IT spend.
Uncover Installed Products for Target Markets
Find the products that are most present in your defined market according to your chosen categories.
Seeing Is Believing – Watch The Video!
Experience HG Insights

Accelerate your customers time to value with HG Insights' world-leading technology intelligence solutions – you can drill down from high-level planning decisions to granular, actionable insights on a company-by-company level with the click of a button.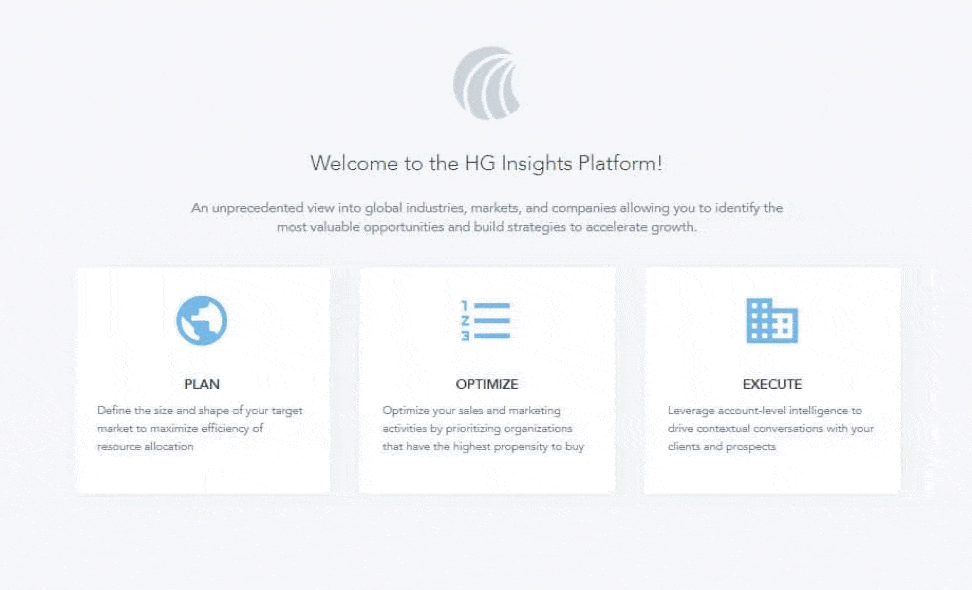 Schedule a demo with one of our solutions experts to see how you can use HG Insights at your company to accelerate growth!